Rooms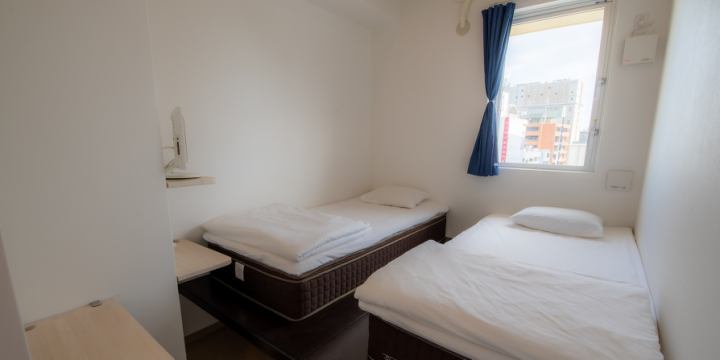 A cheap hostel with a completely private room, which is rare in Okinawa
Since it is a completely private room, you do not have to worry about noise and you do not feel stress.
All rooms are equipped with TV and Wi-Fi, so you can relax in your room after check-in.
Each room has a power strip that can also be charged via USB.

*There are unisex floors (2nd-5th floors) and women-only floors (6th-7th floors).
 Please understand that the women-only floor is not available to men.
*Smoking is prohibited in this facility.
*Room with TV and bed only.
*Shower rooms, toilets, etc. are available on each floor.
List of guest room facilities
Number of rooms

114 rooms in total:114 Western-style rooms

Room facilities

bed/Outlet/Wi-Fi available/clothes hanger/Luggage storage/TV set/Air conditioner

Internet related

All rooms are available
[Connection method]Wifi
[PC rental]No
[Internet connection]Free

Amenities

Hand towel(For a charge)/Toothbrush / Toothpaste(For a charge)/Bath towel(For a charge)/shampoo/Body soap/Hair dryer

Supplementary information about amenities

Shower and toilet are shared.
Please use it as it is located on each floor.

Locally available credit card

Credit cards cannot be paid locally.

Check-in time

15:00*No curfew after check-in

Check-out time

10:00*After 10:00, an additional 700 yen (every 30 minutes) will be charged as an extension.

Notes

●The property is a hostel.
●Please note that unlike hotels, check-in is not available after 22:00.
 If you do not contact us after 22:00, we will cancel your request.
 We appreciate your understanding and cooperation.
●Please note that we do not accept refunds for shortened dates after check-in for consecutive stays.
●Smoking is prohibited in this facility.The smoking area is next to the entrance on the 1st floor.
●We are not responsible for any loss of luggage, so please manage it by yourself.